3 days that i've been opening a new page on my blog but the lack of time has forced me to close the page without writing a single word. Lack of time or should i say the decision to use this free time for something else (such as writing on Mr Danger)


Write, read, talk and work out.

But let's face it, what else can you do on a very rainy week-end, when night slowly falls at 4pm and it's cold and wet ??
You learn how to live well. Otherwise, you just get depressed.

So that what i did.
Friday night, boxing class, my jabs are getting better and stronger. I'm like a machine. Even though i'm exhausted, the teacher says "Punch" and i just punch.

Saturday morning, i get up and feel like a fresh cup coffee somewhere. 5 minutes and 2 blocks away later, i stop by Terra Bread, get a sourdough demi-baguette with butter and raspberry jam, a fresh cup pf coffee and the Globe and Mail. "That's how to do it !" says the "baker". "You know how to live" says l'Ecrivain.
Yes indeed.
The rain starts to fall again but i have everything I need on a Saturday morning. Well amost. 5 minutes later, l'ecrivain and then my mom call. Now it's a perfect morning despite the grey weather.

Later that day, i meet with Mu at the Community Centre (Inside the Aquatic centre) and we work out for 1h30. L'ecrivain had told me there were a speedball and a punching bag outside, so i got my gloves. I teach Mu how to get rid of our bad energy by punching and kicking hard in the bag. That's good, so good.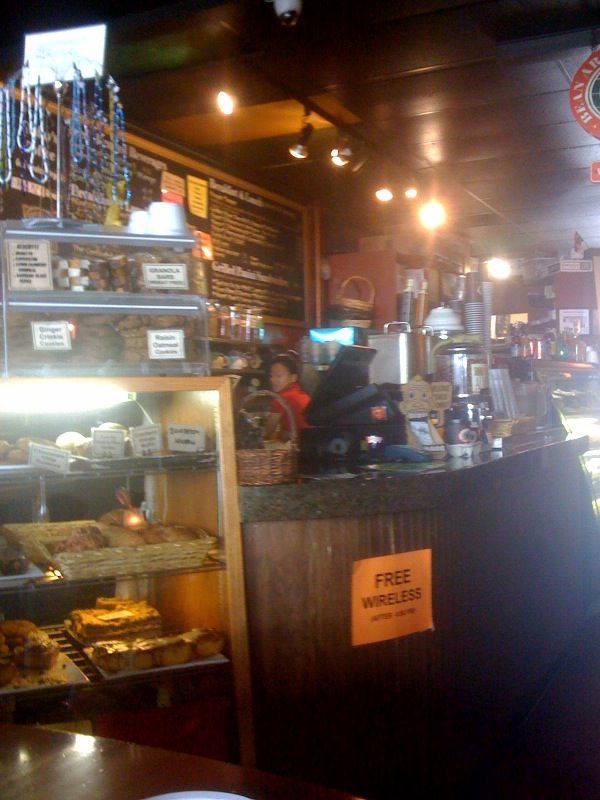 By 4, we are on Davie, at Melriches to get a coffee and an Oatmal Cookie, and meet with Val and Peter. I like this place, even tho it's 176% gay and packed pretty much all the time, i like it. Nice pictures of Nice and Cannes on the walls, nice cookie, good friends.
Mu is feeling so good after our good work out that she starts to love everybody, and even starts to think that she loves Vancouver. Im telling you, this is how we get addict to work out.

L'ecrivain comes for dinner and tries my super quiche. I'm the Queen of the (zucchini-mushrooms-goat cheese) quiche.
I'm apparantly a linguistic nerd as well, because of a conversation about the wolrd "Porte manteau". We disagreed about the meaning of "Porte Manteau". So here i am, with my Petit Robert, my Etymology dictionary and Lexicogos website, looking for the whole history of the Portemanteau. A nerd. Great.

I wake up this morning, open my Mac and realize i hadn't turned it off the night before. On the desktop, souvenirs of the night. Pictures of beautiful places. We have travelled last night. London, Paris, Berlin, Lyon, New York City. We have travelled and it's all right here, on my screen.


| | |
| --- | --- |
| | |

10:30, i meet with Choupinou at the gym and 1h15 later, i walk and move like a Playmobil. Fortunately, we go
to Burgoo
for a lunch, on Main. Carrot soup, cheese sandwich, jeez it's too good. Things that had to be said are said.
Next training, Wednesday, but this time, on the ring.

Oh yeah.