l guess it also happens to you, some days you feel like dizzy, out of the reality, as if you would be drunk or high but you are not. You might be sick, like i've been since thursday, or just tired.
One morning, you open your eyes and you wonder if you've dreamt or if it was reality.
I woke up this morning with this weird feeling. Feeling like cotoon, on a cloud or something. It's probably due to my cold/flu, but still.
Was I out yesterday night or did I dream it ? Did I speak about that or was it in my dream ? Did i really forget my umbrella at Elo & Mat's party ???
I really feel like being "dans du coton", "a l'ouest".
So i decided this morning that a good way to get rid of the microbs might be work out !!

Aille-pod, towel, water, Gym. I was so completely "dans le brouillard" that i worked out for 1 hour of cardio (cross trainer) without feeling anything. At all.
Of course, this is always THIS specific day and time, when you look like shit that you run into someone you would have NEVER thought you would see in YOUR community center.
Well, i was at the end of my work out, listening to "Bonbon dur", the last perfect-work-out-Madonna album, and i was faaar away from reality, thinking to the North, to the ski season and if i should get a night pass to go snowboarding after work (Youhoo)... when i've been sent right back to reality, just like that...
I've seen someone in front of me, smiling at me... One of my ex-student i kind-of-

almost

-dated-before-i-quickly-changed-of-mind-because-he-spent-too-much-time-to tell-me-how-busy-he-was (who also told me how he could buy Jimmy Choo shoes for his "lady/ies friend/s. "Do you like Jimmy Choo shoes Stephanie ?" My feministe pride pushed me to answer "Naaaaa". Afterwards, when i thought about it, i wouldn't have been completely against a $400 pair of shoes... Pfff. Too bad. F***g pride who also pushes me to refuse help to carry my bags :)).
Anyway,
I ran into this 50 years-old-guy. I could have seen him at the beginning of my work out, when i was still "fraiche et pimpante" (

i know, on peut toujours rever d'etre fraiche et pimpante, un dimanche, a 33 ans

). Bin non ! I saw him right

at the end

, when i was all sweaty and shit. Pfff, nevermind, i saw him in sport outfit (

basic short and shapeless shirt

) which is wayyy different from his usual suits :) Hin hin.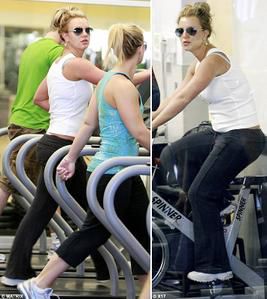 Well, at least, i'm not the only one to be ugly at the gym.. Britney is too (and we might have the same probleme with the masque a l'argile actually)! Hin hin ! (i know, it's easy but feels good !).


Well, i HATE that. Seeing people i know at the gym.
Especially a sunday afternoon, when you're sick, you have spots on your face because of a fu****g Masque a l'argile you put on your face 2 days ago (i definitely stop les masques a l'argile, it's ALWAYS the same thing : I suddenly get acnee when i should be TOO OLD for that. Ouiinnnnn. It was the last time i tried. I actually sell a tube of masque a l'argile if someone wants to try. Nobody ?) and you feel like you NEED to work out because you ate too much last week.
Well, that's was my work out on a sunday afternoon.

Well, if there is a God somewhere, i have to tell you something: it's just not fair.